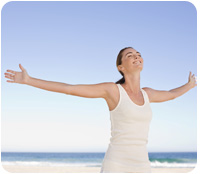 Gentle manual treatment to relieve abnormal accumulation of protein rich fluid. Lymphedema usually occurs in the arms and legs but can occur other places as well. It can be very painful. Our Lymphedema Program consists of four components – manual lymph drainage, compression, skin care and decongestive exercises.
Even if you have not had success with other treatments this program is for you. We address the root cause rather than merely treat the symptoms. This results in a more long-lasting relief and is highly effective in preventing a recurrent problem. Our advanced hands-on techniques will promote a fast recovery and may help conditions where all previous therapies have failed.
Benefits of Our Lymphedema Program:
• Reduces inflammation.
• Improve your overall ability to do daily activities.
• Start seeing immediate results.
• Sleep better
How long before benefits are realized?
The more chronic and severe the condition, the longer it takes to respond. The majority of conditions will take from 4-5 or 10-18 treatments.
Be Wary Of…
Therapists who only give massage therapy without exercise and injury prevention instruction.
Why Act Now?
Don't put it off any longer. The longer you wait the more serious your problem may become. Don't let your problem get to the point of no return. Act now and receive a free screening.