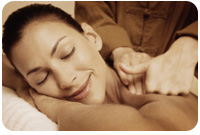 This is a fantastic way to normalize painful muscles and joint stiffness. The therapist will use their hands to apply pressure on muscle tissue and manipulate joints to promote pain relief and regain normal flexibility.
Even if you have not had success with other treatments this program is for you. We address the root cause rather than merely treat the symptoms. This results in a more long-lasting relief and is highly effective in preventing a recurrent problem. Our advanced hands-on techniques will promote a fast recovery and may help conditions where all previous therapies have failed.
Benefits of Our Specialized Manual Technique Program:
• Immediate pain relief
• Improve your overall ability to do daily activities.
• Avoid lingering affects of injury.
• Faster recovery period.
• Learn how to avoid future problems.
• Increased flexibility & movement.
• Sleep better.
How long before benefits are realized?
Benefits are realized immediately.
Be Wary Of…
A facility that does not offer personalized one-on-one service. You should learn something new each visit. Self-care and home exercise education are crucial for fast results.
Why Act Now?
Start seeing immediate results. Sleep better. Return to a more active lifestyle. Don't put it off any longer. The longer you wait the more serious your problem may become. Don't let your problem get to the point of no return. Act now and recieve a free screening.